Welcome to the North New Jersey Car Accident Lawyers Directory. We have listed the top personal injury attorneys in New Jersey who handle car accident cases in the Northern NJ area.
Please keep in mind that most of these lawyers will offer a free case evaluation if you have been injured in a serious auto accident.
North New Jersey Auto Accident Lawyers
Khorozian Law Group
One of the functions that a car accident lawyer serves is to help society hold the offending party accountable. An auto manufacturer who sells a defective car, or a trucking company who places fatigued drivers on the road…each of those cause accidents and one of the best ways to prevent this from reoccurring is to hold these companies accountable.
Through years of experience, The Khorozian Law Group has aided individuals in gaining compensation for recovery for those who have experienced personal injury. The physical and financial burdens that follow injuries of any kind can be very difficult to handle. Expensive medical treatments and time off from work can seriously affect one's ability to provide for themselves and/or their family. Fortunately, laws that exist in New Jersey to protect those who suffer an injury caused by another's negligence. The Khorozian Law Group can help one who has suffered an injury to navigate through the process of receiving reimbursement. –Find us here.
The Epstein Law Firm
New Jersey Highway Accident Lawyers
Were You Injured in a Car Accident on the Garden State Parkway or New Jersey Turnpike? The busy roads and highways crisscrossing New Jersey are sites of serious and fatal car accidents every day. If you or a loved one were injured in a car crash on the Garden State Parkway, Route 80, Route 17, the New Jersey Turnpike or another expressway, The Epstein Law Firm can help recover the full and fair compensation you deserve. -Find us here.
New Jersey Personal Injury Attorneys
Strength. Experience. Results.
Todd J. Leonard Law Firm
At the Todd J. Leonard Law Firm we have represented thousands of people who have been injured in all types of accidents. Our office has recovered millions of dollars on our clients' behalf. If you have been injured or lost a loved one in a fatal accident, we will fight to protect your rights and hold all responsible parties accountable, from insurance companies to large corporations.
Our team of New Jersey accident lawyers have over 30 years of experience, extensive resources, and proven results that you can trust. Todd Leonard personally carries on the legacy of his father in providing compassionate and relentless personal injury representation to his clients in New Jersey. -Visit us on Instagram.
Breslin & Breslin, P.A.
At the New Jersey law firm of Breslin & Breslin, our personal injury lawyers advise and represent people who have been injured in auto accidents of all kinds. Even what appears to be a simple car accident can present complex legal problems involving insurance coverage, proof of damages, or the potential liability of component manufacturers or highway engineers for dangerous road conditions.
Do not settle your car accident claim until you have talked to a knowledgeable Hackensack car accident attorney. Contact Breslin & Breslin for a free consultation about your legal rights. Follow us on Twitter.
Schibell & Mennie, LLC, Attorneys At Law
Oakhurst, Howell and Toms River Offices Serving All of New Jersey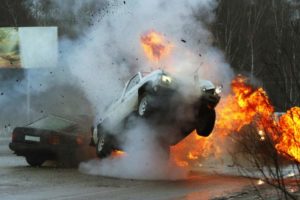 Every year, an estimated 2.3 million people are injured, and roughly 32,000 people are killed, on United States roadways. That makes vehicle accidents one of the most common personal injury cases across the nation.
In fact, car accidents are so common that many drivers think that they can handle their accidents and personal injury cases on their own. However, this is a huge mistake that can result in lower recovery or no recovery at all.
There are millions of car accidents in the United States every year, but your accident isn't just a statistic – and we'll never treat it like one.
At Schibell & Mennie, LLC, our experienced car crash attorneys have been handling claims for decades. Our lawyers can discuss your case with you today. -Schibell & Mennie, LLC
Shapiro & Sternlieb, LLC, Attorneys At Law
Personal Injury Lawyers serving Englishtown, Newark, Jersey City, Monmouth & Middlesex Counties, and nearby areas of New Jersey
Even though a car crash only lasts for a second, the consequences of an accident can linger for weeks, months or even a lifetime. The catastrophic injuries caused from a wreck can burden you with unexpected medical bills and time away from work that you and your family can't afford.
If you've been injured in a wreck, contact Shapiro & Sternlieb, LLC today by completing the form on this page or calling to schedule a consultation with an experienced car accident lawyer. We help accident victims throughout New Jersey, including Monmouth and Middlesex Counties.
Why Work with a Car Accident Lawyer?
Simple fender-benders that result in minor vehicle repairs and don't involve any injuries often don't require the counsel of an experienced car accident attorney. However, if you've suffered a serious injury, you'll need a knowledgeable and skilled lawyer on your side who can help you pursue compensation for medical costs and lost wages.
Find New Jersey Car Accident Attorneys Nearby